Hello, everyone!
If you happen to find yourself up to your eyeballs in wrapping paper, ribbons and bows tomorrow morning, send us a photo of the Christmas morning mayhem!
It doesn't have to be extravagant, of course (we also like photos of cats and dogs with bows on their heads…hee hee just saying).
We will post the photos next weekend. Share them with your Tudorka Tots! It will be fun for them to see their friends as we take a few days off for the holidays.
Do you plan to dress your baby in his or her special onesie courtesy of the teachers in the Mountain Blvd. infant room? Send us photos of them, too!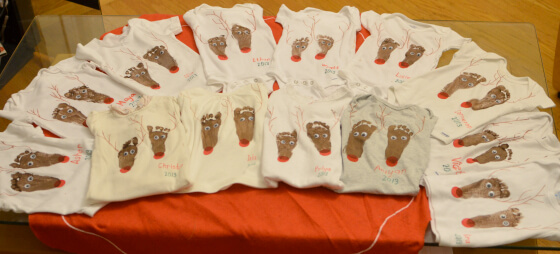 And here are some fun photos of a holiday art project the preschoolers at our Campus Dr. site did last week.
And last but not least, thank you to everyone for making our Winter Ball an amazing event this year! From our home to yours, we wish you a very happy holiday!!
Love,
The Tudorka Tots Blog Team