Happy Friday, everyone!
Today we are introducing you to two friendly faces you may have seen around campus these past few weeks. We have welcomed Ms. Mery and Ms. Julia as teachers who will help out when needed at all three Tudorka Tots sites.
Hello! My name is Mery Indira Quezada. I moved to California when I was 3 years old. I currently have a BA in progress from Sonoma State University. I currently hold an Associates degree from Contra Costa College in General Ed & various Child Development courses including supervising adults. I originally went to college for Business Administration but I decided to make a bigger difference in the world and changed careers to the Child Development field, and I fell in love with my job! I also have a 3 year old daughter, who is my world and best friend. I love parenting and would love to help families. I have been working with children and families for 6 years, which I am passionate about. I currently work with children, teachers, and families at all the Tudorka locations. I will enjoy meeting all of you!
Hello, Tudorka Tots parents. My name is Julia Cameron. I'm from Orange County California. I have 3 wonderful children, one girl and two boys. My daughter is 15 years old, my son is 12 years old and my youngest is 6 years old. I have worked with children for over 17 years, starting my senior year in high school. I went to Santa Ana College and Modesto J. College to study child development. I always enjoy learning new things in child development. I currently teach in the infant classroom at Tudorka Tots, Fleming site. You might see me visiting Mountain and Campus sites as well. It is a pleasure meeting you all! I enjoy being part of a child's life and if I can make a difference in just one child's life, all my years in child care are well worth it.
Welcome, teachers!
And now for our new feature highlighting art that inspires us!
A wonderful snow globe made during a holiday crafting project last year. Thank you for sharing!
And drawings, of a dinosaur and a shark, done by siblings over summer break! Thank you for sharing, as well!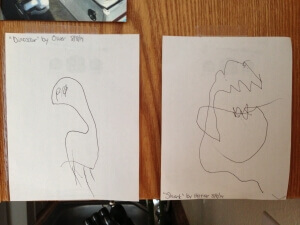 Parents: We'd love to continue sharing our students' art each week. Snap a pic and we will post it in the blog!
Have a great weekend!