We Love Our Teachers: Take 2
Hello everyone!
We are still celebrating Teacher Appreciation Week at Tudorka Tots. Thank you for all the kind words, treats and cards you've shared with us throughout the week. Here are a few more stories from parents we'd like to share:
"My son is usually one of the first to be dropped off in the morning and Ms. ♥ is always there to greet him with a cheerful, "Good Morning!!" and a big hug. Sometimes he is grouchy or clingy, but Ms. ♥ is so patient and loving with him that he ends up in her arms with a big smile on his face before I'm even out the door. She always asks when he woke up and if he had breakfast so that she can plan for his naps and make sure his belly if full, which means a lot to me. We are very grateful for Ms. ♥ and thankful to know that our son is safe and loved!!"
"Ms. ♥ has found her way into our hearts and our family because of how much our son loves her! Even at 4 months old, our son found an instant connection with her and she has truly become his best friend. He lights up whenever she is around. When I arrive to pick him up after daycare, the 2 of them are usually strolling hand in hand and it makes my heart melt! We are so happy that he has found Ms. ♥ and incredibly thankful that he has someone so loving and kind to look after him when we are at work."
"We love all of our teachers at Tudorka Tots. The best thing about having so many great teachers is that, although they work as a team, they are each individuals and will approach a situation in their own unique way. This allows each child an opportunity to learn from someone in the style that best suits them. And as a parent of two children that have completely different personalities and learning styles, I really appreciate being able to tap into these resources in one place! Thank you to all of our Tudorka Tots teachers!!"
"My kiddo is so in love with Ms. ♥ (and she's so in love with him) that we affectionately call her 'second mom.' For a while as a baby, he would only take a bottle from her, and wanted to sit on her lap all day—just because he loved her that much, not because he was uncomfortable at daycare. Recently, we were out and about, and I asked him who we were going to see, and he said really hopefully, ' ♥?' Sometimes he even cries leaving her at night! They love each other so much that we're going to have to make sure they see each other when he changes to the toddler room."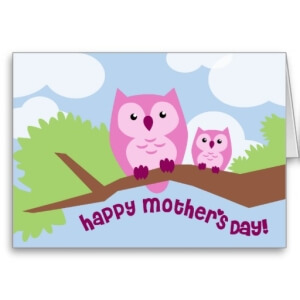 Don't forget, Mother's Day is this Sunday, May 11! Click HERE for event ideas around Oakland.
Have a great weekend!