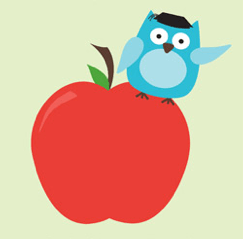 Happy Monday, everyone!
As you may know, this week is Teacher Appreciation Week. We are showing our love by sharing stories about our teachers. Please continue to send your stories to tudorkatotsblog@gmail.com and we will post throughout the week. (Remember, these will post as anonymous so no one feels left out.)
From a Mills Tots parent:
"We love the teachers at Mills Tots! My little one squeals with excitement when we pull up to the school in the morning and I know that the teachers give her the love and attention that she needs and I feel reassured leaving her there every morning."
From a Campus Dr. parent:
"If my preschooler is having a particularly tough time saying goodbye in the morning, Ms. ♥ sits with him, just the two of them, and either colors or reads a book so he gets some space to get ready for his (inevitably fun!) day. Knowing my child gets attentive care like this makes it easier to head off to work. We love our teachers!"
From a Mountain Blvd. parent:
"We couldn't have asked for a better teacher than Ms. ♥. She is a highly knowledgeable and effective teacher – our daughter comes home every day knowing new words/concepts, singing songs and telling stories about what she has learned at school. Ms. ♥ has a wonderful relationship with our family and communicates with us regarding our daughter's development. Most importantly, she has proven to be a caring and compassionate person, whose love for children shines through in all her words and actions. We love you Ms. ♥!"
Click here for more information on Teacher Appreciation Week. And keep those stories coming!